Message from the President
I would like to express our sincere gratitude to all of you for your generous support. My name is Tatsuya Kataoka and I was appointed President in April 2022.
I would like to express our deepest sympathies to all those affected by the novel coronavirus. We will continue to give top priority to protecting our businesses and employment, and by extension, protecting the local economy, by keeping in touch with our customers.
The Bank of Yokohama has started a new medium-term management plan in April with the aim of transforming itself into the long-term vision of our group as "a solutions company that is chosen as a locally-based, partner organization", and we are wasting no time working on new measures based on the three basic themes of the plan.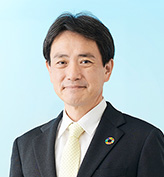 The first theme is "Growth". We will make further progress on deepening and expanding the solutions business (implemented during the previous medium-term management plan), and we aim to grow together with our customers. For individual customers, we provide tailor-made one-stop optimal solutions through life consulting. For corporate customers, we will strengthen our offerings of strategic solutions that are deeply involved in management strategies such as business, finance, and capital, to meet diversifying and sophisticated needs such as capital reinforcement and decarbonization, for new finance that goes beyond the conventional framework. With consideration for deregulation etc., we will also take on the challenge of creating new businesses.
The second theme is "Change". Our ability to provide solutions and our specialized IT/digital departments, etc., will strengthen the high caliber of our personnel, and we will create dynamism in the organization by instilling career ownership and promoting diversity and inclusion. In this way we will transform the organizational culture into one that has a strong desire to take on challenges and to grow. We will also accelerate digital transformation. By expanding and upgrading non-face-to-face channels for individual customers, we aim to improve convenience and provide new customer experiences, and for corporate customers we will also collaborate with external specialist companies to strengthen our support for digitalization.
The third theme is "Sustainability". In order to contribute to the realization of a sustainable community, we will support our customers' efforts for sustainability through our core businesses such as sustainable finance solutions. In addition, as the Concordia Financial Group, we will promote decarbonization efforts to achieve carbon neutrality by 2030.
The Bank of Yokohama will continue to provide services that are useful to customers and exceed their expectations. We look forward to receiving your continued support.
April 2022,
President and Representative Director