Message from the President
Thank you all for your continued support of Bank of Yokohama.
Bank of Yokohama celebrates its 100th anniversary on December 16, 2020. I would like to express my sincere gratitude to our customers and shareholders for their continued patronage over the years.
We are currently prioritizing financial support for customers affected by the novel coronavirus, providing a wide range of finely tuned solutions for businesses and expanding our channels and services to be more convenient and easier to use for our personal customers.
I feel that society as a whole needs to make positive changes through overcoming the coronavirus disaster, and that we as a community-based bank have a very important role to play.
We will continue to transform ourselves to be the bank of choice that is trusted by our customers and shareholders, so that we can achieve sustainable growth for the region and truly serve our customers.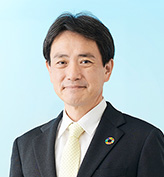 December 2020.
Yasuyoshi Oya
Representative Director, President